We all know that good "sleep hygiene" improves our overall health and well-being. A good night's sleep not only allows our body to restore and heal, but sleep helps regulate our metabolism and our ability to think and function every day.
Did you know that the amount of sleep we need changes as we grow older? See how much sleep is recommended for your family members by the National Sleep Foundation:
| | |
| --- | --- |
| Age Group | Recommended Hours of Sleep Per Day |
| Newborn (0 - 3 months) | 14 - 17 hours |
| Infant (4 - 12 months) | 12 -16 hours (including naps) |
| Toddler (1 - 2 Years) | 11 - 14 hours (including naps) |
| Preschool (3 - 5 Years) | 10 - 13 hours |
| School Age (6 - 12 Years) | 9 -12 hours |
| Teen (13 - 18 Years) | 8 - 10 hours |
| Adult (18 - 60 years) | 7 + hours |
| 61 - 64 | 7 - 9 hours |
| 65 years and older | 7 - 8 hours |

Unfortunately, a third of adults in the United States say that they usually get less than the recommended amount of sleep. Lack of sleep can be linked to many chronic diseases, injuries, and sleep disorders.
Tips for a Better Sleep
Keep a consistent sleep schedule. Wake up and go to bed at the same time on weeknights and weekends to achieve your sleep goals.
Limit screen time before bed, this includes electronic devices: TV, computers, and smartphones.
Avoid large meals, caffeine, and alcohol before bedtime.
Get active. Physical activity during the day helps to fall asleep easier at night.
Create a comfortable sleep environment. Keep the room dark, cool, and quiet. Try use darkening curtains, earplugs, a fan, or a sound machine.
Manage daily routines to reduce stress and anxiety before bedtime.
Purchase the right mattress that fits your sleep needs!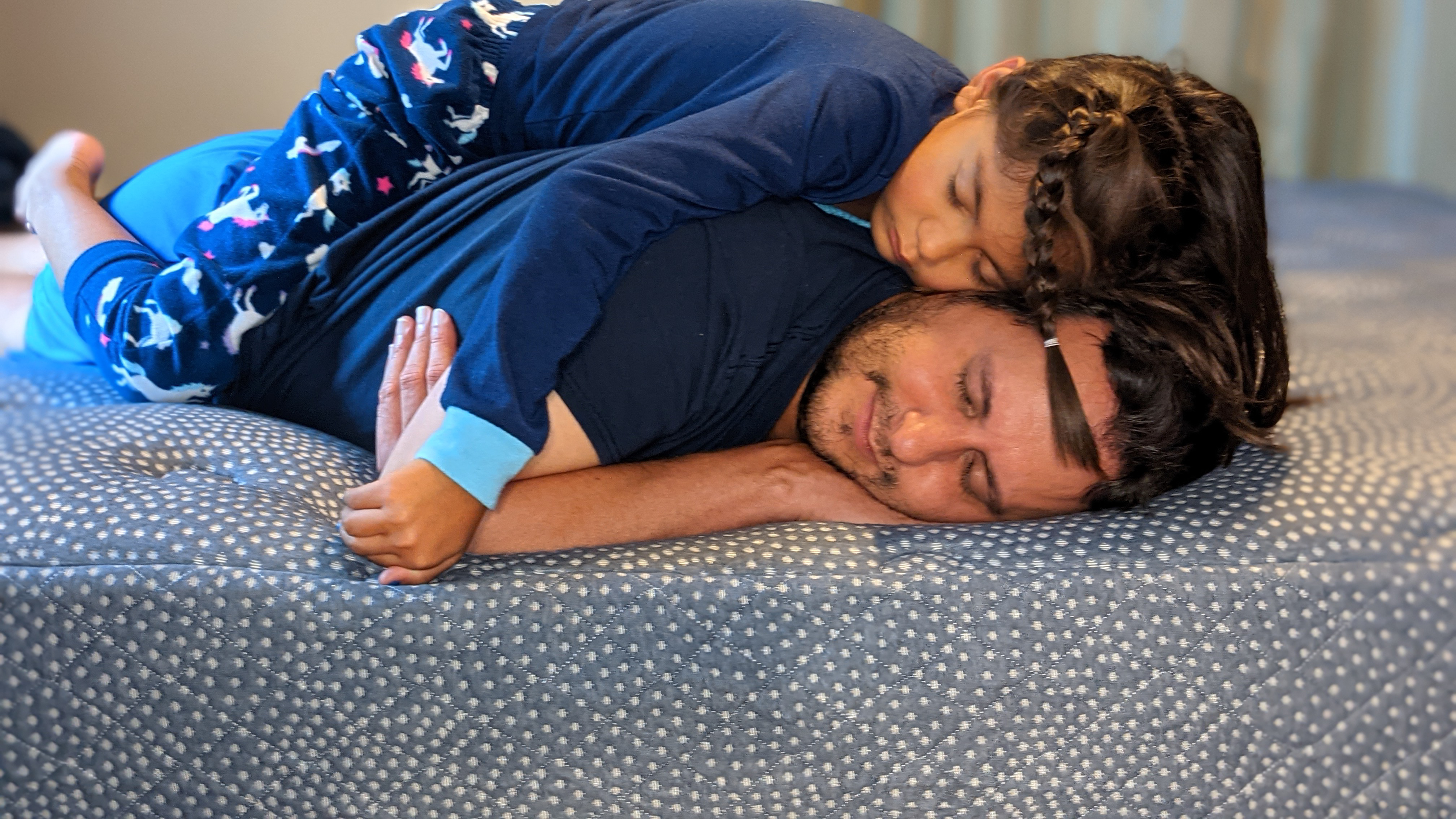 Our Sleepless Nights
My husband and I love to sleep, but we have difficulty staying asleep through the night because of our back issues from various injuries. We have tried the various "tips", including heating pads/blankets, acupressure mats, weighted blankets, and other special mattresses. My husband can't help but toss and turn like a "rotisserie chicken" throughout the night. To top off our sleep deprivation, many nights we are awakened by our cute little girl who loves to cuddle in between us.
We have talked about upgrading the mattress that we've had for well over 10 years, but shopping at mattress stores was at the bottom of our "To-Do List". It's very time-consuming to research and drive all over town to test mattresses. Frankly, with the globalization of many products, including mattresses, it's hard to trust the quality and safety of materials used in products or a pushy salesman. It's also creepy testing mattresses at the store that multiple other shoppers have also tested. The pandemic made mattress shopping even more complicated and lower priority. We prefer the convenience of comparative online research and shopping.
Partnership
Thanks to Macaroni Kid and Luuf beds we had an opportunity to try one of their quality affordable hybrid mattresses. We immediately went online to the Luuf website to check out the company and research their mattress materials. We were impressed with the variety of options Luuf offers for adult and children size mattresses. We are delighted to share that we found a great sleep solution from Luuf beds to get our family's "sleep hygiene" back on track for the new school year, and you can too!
Use the Macaroni Kid discount code MKID for 40% off Luuf mattresses and accessories.*
What is Luuf?
Luuf is on a mission to make honest, safe, luxury sleep products affordable for every room in your house. In fact, Luuf, Little Luuf for children, and their new line Luuf Simplicity can replace every bed in your house for what it would cost to buy a single mattress in a mattress store.

Luuf Mattress Components
On top of our chronic back pains, we have allergies and asthma in our family. My husband is an environmental health scientist, so he is very cautious about what comes in and out of our home. He always ensures our filters and monitors are working properly to keep the air quality safe from radon, allergens, and other potentially harmful vapors. With Luuf, we didn't have to worry about any harmful mattress fumes entering our home and bedroom from questionable materials.
Luuf is 100% hand-crafted in the USA and sourced using local American-made components. It also comes with multiple safety certifications. Its fabric is Oeko-Tex certified, which is one of the highest independent ratings in fabric. Luuf guarantees their mattresses are free of harsh chemicals and carcinogens.
Luuf is also Certipur Certified, meaning all of the foams are certified through a third party for quality and safety ensuring the foam is:

Made with no ozone depleters
Made with no heavy metals (including mercury and lead)
Made without prohibited phthalates
Low VOCs (Volatile Organic Compounds)
No BPDE (Polybrominated Diphenyl Ethers) in fire retardants Made with no formaldehyde

Luuf even uses a natural fire barrier made of cotton and rayon (the same fabrics used in clothing) and no harsh chemicals.
Luuf Options (Style & Sizes)
Mattress shopping is not a one size fits all situation. With Luuf, shoppers can easily navigate the website and online guide to compare the different options, features, and accessories for each Luuf mattress. Check out the three hybrid models that Luuf offers (each a combination of great foams and springs) designed by sleep experts for a personalized fit. They have a bed for every individual or couple, comfort preference, and sleep need.
Little Luuf (Children's mattress, safe, non-toxic, and made just for kids!)
Luuf has a bed for any issue that may prevent getting a great night's sleep:
Back pain, soft tissue or joint pain (Plush Multi-Sleeper)
A bed that strikes the perfect balance between comfort and support for people who sleep on their sides and back
A firm bed for back sleepers that doesn't feel like a board
A softer bed that makes you feel like you're floating on a cloud
A medium bed for all sleeping positions (Simplicity)
We selected the Luuf: Luxury Firm Multi-Sleeper Mattress to satisfy my husband's "rotisserie" sleep style. He is mainly a side sleeper and my preference is the firmness with a little contour. Thankfully, our daughter also approved our selection. She loves the way the Luuf mattress bounces and hugs her body too, "It's perfect for extra cuddles and storytime". We liked that Luuf is a high-quality, hand-crafted luxury brand offered to customers at 1/3 of the traditional retail prices.
We know it can be daunting for those who are not comfortable making a high-priced purchase online. Luuf's Sleep Experts can also help shoppers decide the best sleep option for their individual needs.
Get your sleep hygiene back on track with Luuf!
Check out the Luuf Mattress, Luuf Simplicity, and Little Luuf!
Use Code MKID and Get 40% Off All Luuf Mattresses & Accessories
+ FREE Shipping & Returns
*Discount excludes adjustable bases and foundations and is not applicable on set-up or removal services.

GET SOCIAL WITH LUUF on Facebook, Twitter, and Instagram

*Disclaimer: Luuf sponsored this article and provided a mattress for this review, all opinions and images are my own.